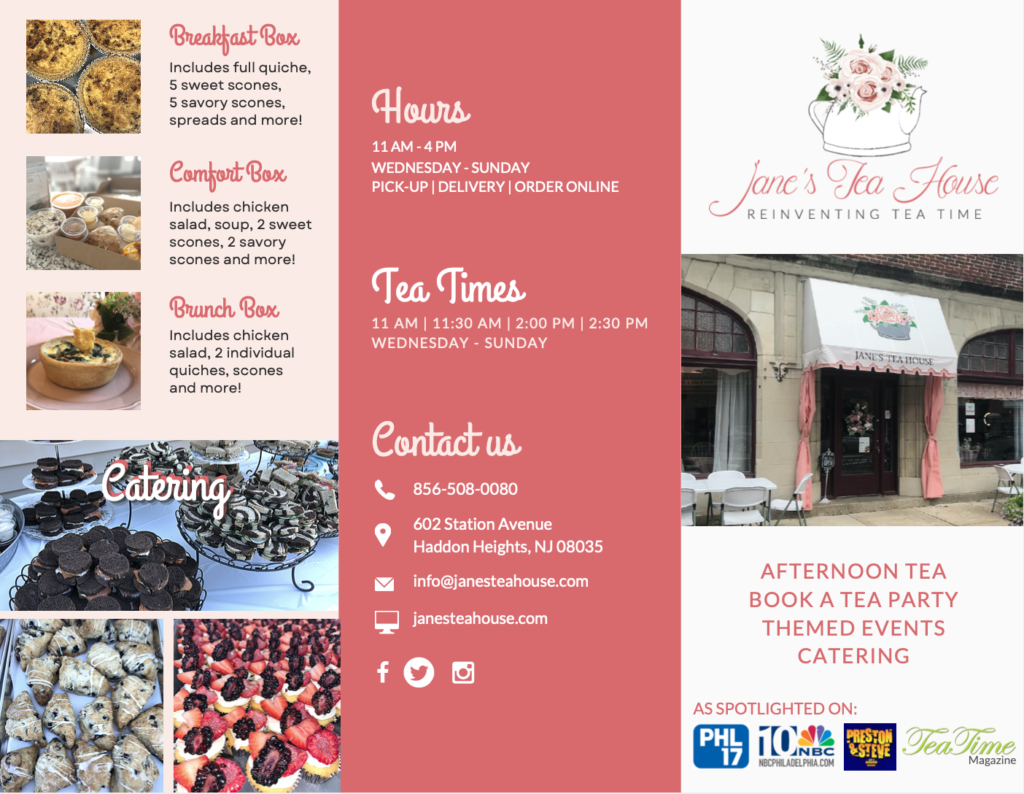 Jane's Tea House concierge staff are experts at planning any event for any size. From selecting the right theme, table centerpieces, and favors to adding special menu options, we will customize any event to your needs, making it truly special.
Plus, we made reserving easy with our online reservation form.
---
CAPACITY
We have semi-private areas that can be used for events at Jane's Tea House or you can rent the entire restaurant. For private events, renting out the entire restaurant, there would be an additional fee. The fee would vary pending on the guaranteed number of people for your event.
INDOOR CAPACITY = 50
OUTDOOR CAPACITY = 32
---
FEES
TEA PARTIES ARE $41.95 PER ADULT AND $24.95 PER CHILD (12 & UNDER) PLUS TAXES AND 20% GRATUITY* AND INCLUDES:
3 Hour Par-Tea (The experience of afternoon tea takes approximately 1.5 to 2 hours. Events like bridal showers, baby showers and birthday parties need more time for presents, etc., and take up more than one tea time, thus the blended rate per person)
Hot pot of tea (more than 30 flavors of tea), unlimited cup of iced tea or lemonade
Jane's signature tea cookie
Four assorted tea sandwiches (you choose 4) for adults and 3 for kids
One sweet scone with clotted cream and seasonal jam or one savory scone with Jane's signature herb butter (6 different flavors for your guests to choose from)
Five definitely not plain Jane desserts for adults (you choose 3, plus macaron and petit four) and kids get three
Selfie station where your guests can take a picture and have it emailed or sent to their phone
BYOB
*All credit card orders are charged a 3% Credit Card Processing Fee, plus Taxes and Gratuity.
---
RESERVATION FEE
When booking a par-tea at Jane's Tea House, there will be a non-refundable deposit of $50 required to save your date. The balance will be charged on the day of your tea party.
---
ROOM FEE
WHAT IS A ROOM FEE?
If you want a guarantee that your party will be in a specific room (back, bar area, left), then you will need to add a "Room Fee".
If your party is less than 50 people and you are not renting out the whole restaurant then Jane's Tea House reserves the right to:
1) Book afternoon tea reservations in the other available spaces
2) Based on the number of reservations and tables needed, sometimes it is necessary to move your party to another part of the tea house to accommodate
If you add the ROOM FEE, this guarantees your party will NOT be moved and is guaranteed to be in the space you selected.
---
QUESTIONS?
Feel free to contact us with any questions at [email protected] or 856-508-0080.